Meet Jessica, the KFC Foundation's 2021 GED Graduate of the Year.
Jessica Briones, Shift Supervisor with Team G135511, was selected as the KFC Foundation's 2021 GED Graduate of the Year!
Everyone who completed the Rise with GEDWorks program in 2021 was eligible to be nominated for this award by their organization. Nominations were reviewed by a panel of judges and Jessica's was selected as the winner, which came with $1,000 in Visa gift cards!
Congratulations to Jessica on your well-deserved recognition. Keep going after your goals!
Check out the award-winning nomination below, submitted by Jessica's Area Coach Lucia Tinoco.
I would like to nominate Jessica Briones from location G135511 in Pasadena, TX to become the KFC Foundation's GED Graduate of the Year! Jessica learned about this program when the restaurant General Manager, Valeria Arteaga, shared the many benefits of working at KFC. Valeria showcased the success of others at the store who had received their GED through this incredible program.

When Jessica was a senior in high school, she ended up having to drop out of school and leave the country due to a family emergency. When she was able to return to the U.S., she had exceeded the age limit and was longer able to get her high school diploma. Jessica is a single mom to Allison who is 5 years old and has special needs. During the day, Jessica would tend to her daughter, go to work in the evenings, and then study for her GED late into the evening/night. She was determined to earn her GED so she could further her education and create a path forward for herself and her daughter.

Jessica is currently enrolled at San Jacinto Community College and is seeking to become a pharmacy technician. The KBP Foods team at G135511 was honored to celebrate Jessica in this huge milestone! It's amazing that KFC offers these life-changing programs that can impact lives for generations to come. We look forward to seeing Jessica continue to reach for her dreams!
Jessica isn't the only GED grad who won $1,000—Carmelita Bays, shift supervisor with Team C750086 in Craig, Colorado, was the winner of the 2021 GED Grad Raffle, where all KFC restaurant employees who earned their credential through Rise with GEDWorks by Nov. 30 of last year were entered into a drawing.
Learn about Carmelita's GED journey below.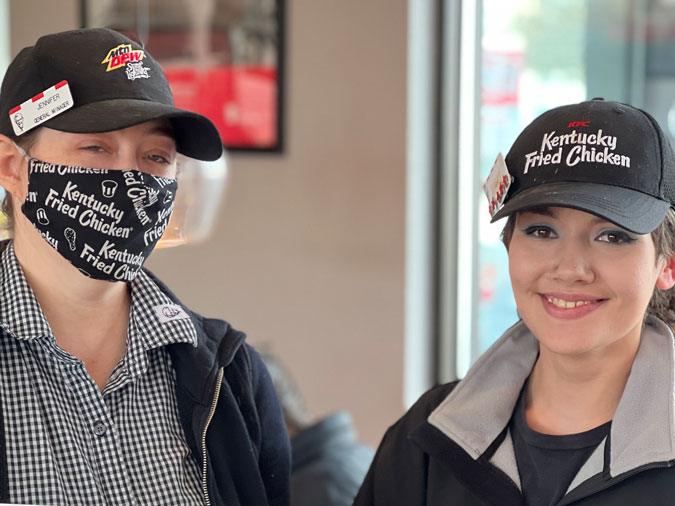 Carmelita felt compelled to drop out of high school part way through her senior year to help support her family financially. Instead of completely giving up, she set a personal goal to complete her GED by the end of 2021 and keep her original graduation year.

At first, she did not have a lot of faith in herself to earn her GED by the end of 2021, but the more pre-tests she took and studying she did, the more confident she became. She not only achieved her goal, but did it by passing her tests on her first attempts.

Carmelita was passionate to pay it forward by helping drive her store's Round Up for the Foundation to near the top of the charts in the nation. She is often the order taker in drive-thru and never misses the chance to ask if guests would like to round up and genuinely thank them for their support.

Now that Carmelita has obtained her GED with the help of the KFC Foundation, she has plans to attend community college and pursue a business degree. Her goal is to open a cafe and bakery one day.
If you are thinking about going after your GED, now is the time! The $1,000 GED Grad of the Year and GED Grad Raffle prizes are both up for grabs AGAIN in 2022 for restaurant employees who earn their credential by Nov. 30, 2022.*
*To be eligible for the GED Grad of the Year and GED Grad Raffle, you must be employed at a KFC restaurant participating in the KFC Foundation's Franchise Donation Program in Dec. 2022 when winners are selected.